Posted on
By Elise Menkveld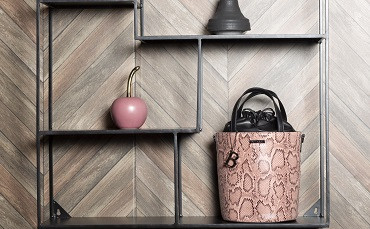 There are always trends which you would like to ignore, but some of them you simply cannot ignore. In this blog we will discuss three trends: floral prints, snake prints, trend colour dusty pink.
Floral prints
We have probably all seen the beautiful floral prints on clothes this past season. The jeans with floral print or embroidery is almost impossible to ignore. We are so happy that this trend, will remain for a while. We continue to see the floral print on garments and accessories.

At BULAGGI you will find the floral print on our bags on a.o. the Rosie hobo shoulder bag and shopping bag. These beautifulcognac and black coloured Rosie bags have stylish floral embroidery on the front and features antique gold coloured details. This fits perfectly with the floral trend of today, but our advice is: keep it elegant and simple with the flower combinations: do not overkill the look.
Check out all floral bags here
Snake print
Another trend that makes us smile are snake prints. We are very happy that we will be seeing the snake prints on clothes and on accessories. Not only do we love the texture of the prints, but the fact that the snake print look on bags is so divers is perfect! Our snake print bags come in so many different colours, which makes it sometimes very hard to choose your favourite new snake bag.
Combining snake prints can be quite difficult when it comes to clothing and accessories. Just like with the floral prints we would like to say: Keep it simple and do not overkill the snake look! Keep it to a max of 2 matching snake elements in your look.
If you love the snake print as much as we do, we have got a nice diverse bag assortment for you at BULAGGI. In both our summer and winter collections, you can find various bags and purses with a snake print. While one bag has subtle snake elements, the other bag is dominated by the print.
Check out all snake print bags here
Dusty pink
One of the trend colours of this moment is the colour dusty pink. This warm and romantic colour is perfect for the upcoming winter season. In combination with rich materials and beautiful details, a dusty pink bag immediately feels like a stylish and charming addition to your outfit. BULAGGI's dusty pink bags have beautiful details. Among others the Jazz shopping bag and cross body bag with beautiful embossed stars and antique gold coloured details, is a perfect bag for different occasions.
Or how about the clutch Carice? The velvet clutch bag in dusty pink combines different trends in one must-have bag! This beautiful pink coloured, soft velvet bag also has a beautiful floral embossed print. Thanks to the included shoulder strap, this bag can not only be used as a clutch, but can also be worn easily over the shoulder!
Check out all dusty pink bags here