Posted on
By Elise Menkveld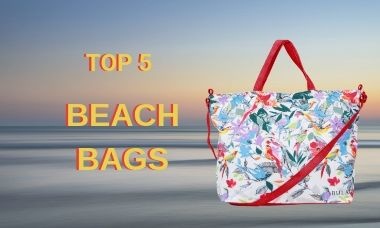 We think that a beach bag is a must-have for a good day out in summer time. 
The temperatures willl rise soon and within a wink of an eye you will be heading towards the boulevard, or sit right on the beach. 
Have a look at our top 5 beach bags we picked out for you! 
1. Shopping bag Vivian: Happy Vacation! 
This shopping bag Vivian will even bright up a grey day. The bag has a beautiful and cheerful print (front and back) of a lady at a beach, in front of a VW van. We love this bag as the multi coloured bag is complementary to almost every beach outfit there is. 
2. Shopping bag Arty: spacious and cheerful bag
Our next best bag is shopping bag Arty. This spacious canvas bag is perfect for a day at the beach, because you will be able to bring all of your beach essentials! As this bag also comes in almost each colour of the rainbow, you will easily match this bag with your beachwear. 
3. Shopping bag Vivian : come fly with me
This cheerful bag with an orange pompon at the front of the bag. This canvas beach bag is a perfect bag for a day out. You can easily bring all your beach favourites with you. This bag is an ode to metropolitan cities like Paris, New York and Amsterdam. 
4. Basket shelby
This timeless canvas basket Shelby is a perfect fit for a day at the beach. The canvas shopping bag has an embroidered red and black floral print. The bag has a spacious main compartment that offers enough space for all your personal belongings. The bag closes with a push button and has a zipper pocket on the inside. Last but not least : this bag can be comfortably worn with the round sturdy handles. 
5. Bliss: perfect happiness
The meaning of the name of this bag is: perfect happiness / great joy. And that's exactly what this bag does to you. This pink handbag has a beautiful floral motive in different colours. Because of the long handle this bag can easily be worn over the shoulder and not only be carried in the hand. This pink beauty is an absolute bag must-have for your beach essentials.   
Ok, we promised to give you a top 5 of beach bags, but we couldn't resist sharing other bags with you. Next to the traditional canvas beach bag we also love rush baskets. Our rush baskets come in different colour, prints and sizes. Get your from € 17,95. 



Check out all rush baskets.