Posted on
By Elise Menkveld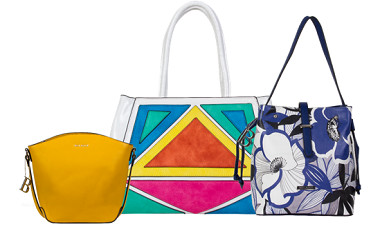 Bulaggi launches its spring / summer collection with love for colourful memories. On the catwalk in Milan we have seen the colours fuchsia pink, coral red, yellow, orange and green. Guess what? All these colours can be found back in our bag collection.
Thé colour of 2019: Living Coral
The colour of 2019 which has been announced by the Pantone Color Institute is : Living Coral. A beautiful warm coral colour which you can find in our bag collection as well.
Love for colourful experiences
Powder pastels that remind you of your loving childhood memories to warm worldly tones that bring you back to the here and now. Next fall/summer Bulaggi presents a collection with love for colourful memories and experiences. You will see lots of natural prints, braiding's and embossment inspired by handmade structures. And an inspiring interaction between soft, contrasting and earthy tones.
Bulaggi's love for colourful experiences shows in her three themes; Layering Lights, Eccentric and Earthiness. In their own way the three themes are modern and distinct, holding the for Bulaggi characteristic style elements, such as special frills and a detailed eye for comfort. Also for this collection of bags and clutches Bulaggi designed her own prints.
Layering Lights
This playful theme is a sincere memory of the girl in the candy shop. A show between powder and innovative pastels. With this Bulaggi creates a playful illusion between style, femininity and a touch of glamour.
Eccentric
Full of energy and joy of life, this theme celebrates life. Enjoying the here and now with a wink to the future. Inspired by modern art, led lights and games. A theme with bold colours in combination with accessible black and white.
Earthiness
Worldly tones that keep you grounded. A theme close to nature with an exciting combination of deep earthy tones and natural handmade structures such as braidings and embroideries.