Posted on
By Elise Menkveld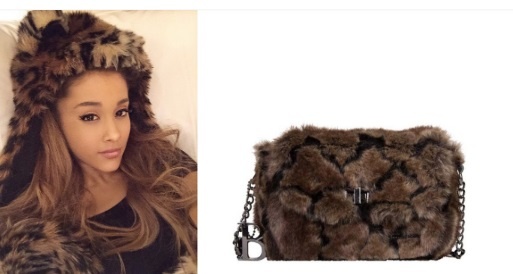 Faux fur is hot! And not just a little. We only see benefits of wearing faux-fur. It's more affordable and manufactured without animals suffering. It's at least as soft as real fur and at least as pretty!
Carried by celebrities
Faux fur is not only a hot fashion accessory to wear, but it also makes a statement to the people around you. Are you curious which celebrities are true supporters of faux fur? Among others we can say that the following ladies proudly wear imitation fur fashion accessories: Ariane Grande, Pamela Anderson, Bella Hadid, Kim Kardashian, Priyanka Chopra en Miley Cyrus, Amy Adams. Kim Kardashian has even gone so far that her favourite real fur clothing pieces and accessories have been imitated with faux fur. imitatiebont. 

In the style of... 
Be inspired by the different styles of these celebrities! Click on the photo of the bag to see more
information.  




Miley Cyrus - Hobo shoulder bag Jacinta black € 74,95
Available in three colours (rust, blue, black)
Kim Kardashian - Handbag Viola pink € 84,95
Faux fur handbag Viola available in four colours (ochre yellow, emerald green, dark blue and pink) 
Sandra Bullock - Hobo shoulder bag ochre yelllow € 79,95
Also available in the colours emerald green, dark blue and pink 



Ariane Grande - Cross body bag Clover € 64,95
Also available as a hobo shoulder bag faux fur