Posted on
By Carlijn Jenster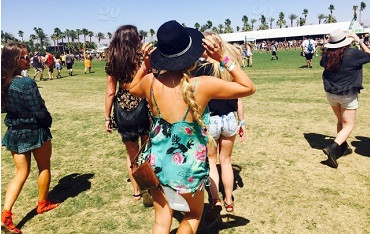 The festival season is coming up, but have you got your outfit ready? With festivals like Pinkpop in the Netherlands, Tomorrowland in Belgium, Lollapalooza in Germany and Leeds in the UK, there are more than enough great festivals coming up.
Have you already found the festival it bag?
Style and comfort are the two most important elements what you pay attention to when putting together your festival outfit. On flat sandals or sandals with a low heel you can dance all day and all night. Wear them with a jumpsuit or a maxi dress, match fun accessories with it and make your outfit complete with a matching bag.
One of the ultimate festivals worldwide is Coachella. This is the festival where the festival looks of the season arise. At Coachella you spot the festival trends for the coming season each year. We will give you BULAGGI's trends for the festival season to complete you festival look. Get inspired!
The perfect festival bag is a crossbody bag
The cross body bag is the perfect festival bag that gives you the opportunity to dance the night away to your favourite tunes without having to worry about the handbag in your hands. Crossbody bags come in all shapes and sizes and usually have a playful look. The bag is ideal for your much-needed essentials such as your phone, money, coins, lip gloss and powder. For those who prefer to take more item with them to a festival, a backpack is the ideal solution.

You can't go wrong with fringes
Fringes obviously can't be missed in your festival look. This elegant white shoulder bag with fringe and woven strap is therefore the festival bag of the season. The bag has several handy pockets so all your essentials are safely stored away. The bag is easy to wear on the shoulder and can be adjusted to any size which makes it not only look beautiful but also comfortable to wear. 
The Pineapple bag
One to stand out of the crowd! The pineapple is the eyecather for the festival season. This pineapple with gold glitters has a handy size and offers enough space for all your essentials. This strap can also be adjusted to size, which makes is comfortable to wear. 
Check out all crossbody bags here

 
Patterns & studs
Would you like to be well prepared and have everything with you during the festival season? In that case this backpack is de ideal solution. This backpack with pattern and studs gives you the festival look and feel. The bag has a spacious compartment with several inside pockets so
Enjoy your festival look!