Posted on
By Elise Menkveld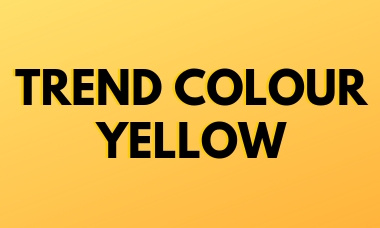 Yellow is thé trend colour of this season. Varying from fresh lemon yellow to ochre yellow and from musterd to neon.
You see all colours from the yellow palette this summer. Yellow reminds us of sun and summer and brightens your mood and outfit within a heart beat.
Associations with yellow
Yellow is usually associated with spring, sun, energy, summer, a new beginning and luck. It gives us joy, happiness and positivity. This colour represents knowledge, wisdom, adulthood, creativity and fantasy.
With the colour yellow, it is easy to apply accents, especially when it comes to yellow accessories. At Bulaggi, we are also a big fan of yellow and therefore offer a wide range of yellow bags in our assortment. From a fresh lemon colour to ochre yellow bags: we have got it all! 

Hobo shoulder bag Melanie € 69,95
Shopping bag Kayla € 79,95                          
Is yellow 'your colour'?
Not everyone is instantly enthusiastic about the colour yellow. Warm colour types can effortlessly combine the colour yellow thanks to the golden undertone of colors like ochre yellow and mustard. While others find these colours more difficult to combine. Fortunately, the colour yellow can be styled in various ways, so that you can fully follow the trend of this season. You could wear yellow as a detail in your accessories (belt, jewellery, bag) and below the waist (trousers, skirt, shoes). Are you going to wear (touches of) yellow in your clothes or shoes? Make sure your outfit is in balance and don't overkill it. 
Sienna Miller is wearing a fresh yellow cross body bag and combines it with very natural and simple colours. This way the bag will stand out even more so! In this very same style we have crossbody bag Nikkie in our assortment.
Combining yellow
In general you can state that the opposite colour within the colour wheel is complimentary to the designated colour. Have a look at the colour wheel and you see that the opposing colours to yellow are purple, blue and red. Blue is a very neutral basis to pop out the colour yellow in your outfit. The colour combination yellow and gold, also go very well together. 
In the end, combining colours in your outfit is a matter of taste. Where one chooses for the ton-sur-ton look, the other goes for a more balanced colour combination and another person chooses intense colour combinations. It is all possible! So, please go for the look you feel good about. 
More yellow Bulaggi bags
Handbag Kayla € 79,95
Hobo shoulder bag Bowie € 58,95


Crossover bag Melanie € 59,95
Handbag Nikkie € 69,95

Crossover bag Angel € 79,95