Posted on
By Elise Menkveld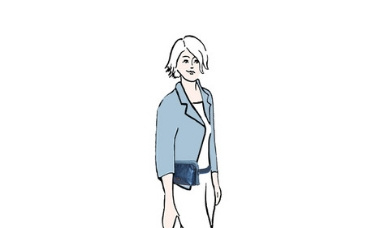 When hip pouches came back into fashion, quite a few eye brows were raised. Luckily we are all used to the bag trend now. Read more about this special bag in this blog post.
Hip pouch, bum bag, fanny pack, waist bag...
Quite a few indications are being used to described the bag of the year: the fanny pack. All terms are correct and can be used interchangeably. A fanny pack is a small pouch which is usually worn above the hips and around the waist to carry essentials in. It's a perfect bag for a festival day. 


From nineties trophy to festival trophy
Did you experierence the nineties? Remember that almost everyone owned a hip pouch? Men, women and children all walked around with their colourful trophy. When the first catwalk models and influencers wore fanny packs again, it was a bit of a shock for most people. The hip pouch was associated with old-fashioned. Afterall, the only place where people could find hip pouches in their homes, was in their photo albums. 

But the bum bag got a foothold and was increasingly picked up by everyone. As with most trends, this trend has also been given a slight twist compared to the previous trend. Hip pouches no longer are super casual, but can also be very posh and elegant. 

In addition, the hip pouches are made of more diverse materials and sizes. Back in the nineties a hip pouch was only worn around the waist. Today we see the bag being worn in different ways: 
How to wear a hip pouch
On the hip
The traditional and perhaps most logical way to carry a hip pouch is simply on the hips. This way, you will experience quick access to your essentials. 
As a belt
A hip pouch can also be worn as a belt. You can put the strap of the belt through the loops of your trousers. This way you wear the bag tightly on your body and your outfit will look spotless. In addition, on a festival day you won't have to worry about the safety of your belonings as you wear the bag very safe and securely on your body. 
Over the shoulder: crosswise
Young ladies often prefer to wear a hip pouch a bit differently. They carry the bag diagonally across their upper body. ver het bovenlijf. This way, the dull image of a hip bag is immediately killed. This non-chalante and uber hip look is also very popular among festival lovers. 

BULAGGI's hip bags
Currently, BULAGGI offers two hip pouches in her winter '19 - '20 assortment. The benefit of these bags is that they can be worn to different occassions.  
Hip bag Myrthe, available in three colours: black, blue and red. 

Hip pouch Cynthia Available in four colours: brown, burgundy red, dusty pink and dark blue