Posted on
By Elise Menkveld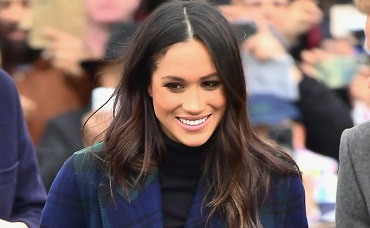 Who doesn't have a soft spot for Meghan Markle? Some of us already loved her as Rachel Zane in the hit series Suits, some came to love her as the adorable modern princess to be.
Meghan's style and accessories have become very popular. Meghan has shared that she likes monotone dressing. Clothes in one and the same colour tone, with little to no print. Meghan's colour palette is; dark green, blue, white, black, pastel pink and burgundy red.

Casual Friday
While Harry and Meghan were dating, she was often spotted in a casual look with, for example, a modern ´ripped´ jeans and white blouse. A nice shoulder bag and matching flats perfectly finish of this look.
Lauren shopper
Bulaggi's Lauren shopper matches this style. The bag is large enough for a day out and can store your belongings ánd new purchases. This bag is available in three colours; black, khaki green and cognac. The bag in the picture is the cognac version.
Shopper Lauren - € 74,95
Duchess of Sussex
Now that Meghan and Harry are married, she can refer to herself as the Duchess of Sussex. We noticed that Meghan has started to dress a little more conservative in her role as the Duchess of Sussex.
Nevertheless she still looks amazing! Pastel pink is a colour she has lately been wearing more often. While the tabloids speculate about the meaning … is she expecting or is she sitting on a pink cloud because of her wedding … Meghan keeps on impressing us with her lovely outfits.
Clutch Kim
A clutch is a handbag that is often carried in your hand. A very elegant look in combination with a cocktail dress. Bulaggi's clutch Kim is completely Meghan's style. This clutch is available in three colours: black, dark blue and pewter. The clutch comes with an additional shoulder strap for extra comfort.
Clutch Kim - € 39.95 
The little black bag
Of course a little black bag cannot be missed in your wardrobe if you are a welcome guest at high-society parties. Your clutch must be made of rich materials and be of added value to your outfit.
Clutch Robin
Our clutch Robin is a perfect addition to your (black) cocktail dress. The clutch is made of soft velvet and has rich extras on the clip, such as pearls. This bag is a real royal eye catcher.
Other bags in Meghan's style
Laptop bag Abby - € 89.95                                       Shopper Quinty- € 79.95
Crossbody bag Jaylin - € 69.95                         Clutch Emmy - € 49.95