Posted on
By Elise Menkveld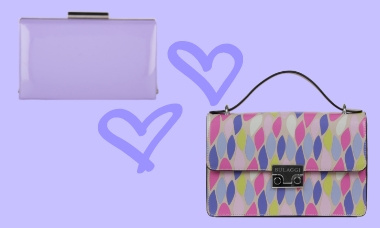 Purple as a fashion color can no longer be denied. Read in this blog why you should go for the colour purple in your look and how you combine this beautiful colour!
A bit of history around the colour purple

Purple is originally a colour that was considered very exclusive. This is because the colour was very hard to win from nature. The colour could only be obtained from sea snails and this is why it was so extremely expensive that only emperors or noblemen could wear this specific colour. Fortunately, this is colour is nowadays available to everyone who loves it! 

Meaning of purple
Purple stands for magical, luxury, mysterious, feminine, creative and romantic. With (a touch of) purple in your outfit, you have an unusual look and shows that you have the courage.
Shades of purple
Popularly, lilac, lavender, eggplant and violet are soon called "purple." There is, however, such a difference in these colours and shades.
What do you think of the colour purple? Does it make your heart beat faster? Or are you afraid that purple might not be 'your colour'? In that case, do not immediately pull that ultra violet coloured dress from the clothes rack, but experiment with purple accessories. Carefully start complimenting your outfit with purple jewelry, shoes, make-up, scarf, or bag. 
The nice thing about the colour lilac, is that this colour fits almost all skin tones. That is different with colours such as red, yellow or orange. You can easily mix lilac with mint green and pastel pink. In the image below, a lilac suit is combined with BULAGGI's crossbody bag Angel. On this crosbody bag you can see a colour combination of various pastel shades including the colour lilac
Combining purple
Many people find it difficult to combine the colour purple with other colours. Actually it is not too bad. Moreover, it does not always have to be combined with other colours. You can opt for a ton-sur-ton look in the colour purple.

Purple can also be beautifully combined with fuchsia pink or dark pink.

Purple pastel shades always match well with other pastel colours such as green, blue, pink or yellow.

Plain lilac bags


Clutch bag Bulaggi lilac € 19,95
Clutch bag Jennifer lilac € 49,95
Clutch bag Jess lilac € 34,95


Clutch bag Pam lilac € 24,95
Bags with lilac tones


Handbag Robin € 69,95


Crossbody bag Emy € 74,95
Handbag Angel € 89,95
Hobo shoulder bag Annemarieke € 59,95
Shopping bag Joya € 74,95

Eggplant coloured bags


Clutch bag Pam eggplant € 19,95

Shopping bag Puck € 79,95  € 39,95
Shoulder bag Robin € 74,98  € 37,48
Handbag Puck € 79,95 € 39,98