Posted on
By Elise Menkveld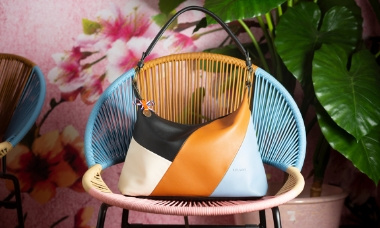 In this blog an ode is given to the hobo bag. But what is an hobo bag anyway?
What is a hobo bag?
A hobo bag is a spacous, crescent-shaped shoulder bag with a wide handle that hangs loosely over the shoulder. Since hobo bags usually have soft bodies, a characteristic curve shows between the two ends o the strap. 
Fun fact
Ever wondered why we call this type of bag, a hobo bag? This is because it resembles the shape of the bindle on a stick that hobos are portrayed as carrying over their shoulder in cartoons and books. 
The benefits of a hobo bag ♥
One of the benefits of a hobo bag is that it is usallly a very spacious bag. You can bring all your essentials with you without having to worry that you cannot close the zipper anymore. Have a look at one of Bulaggi's hobo bags and see for yourself how much you can easily carry with you. 
* books
* make-up bag
* purse
* mobile phone
* keys
* tissues
* hand creme
* hair brush
As this particular hobo bag has two seperate compartments, you can easily carry with you anything you want. This hobo bag is available in different colours and all of them have a different contrasting colour detail on the B-hanger. 

This bag is not only a great bag because of the spacious compartments, but also because of the look of this hobo bag! This bag will give you that extra touch to your outfit. 

A hobo bag perfectly matches with a casual outfit like sneakers, jeans, white blouse (possbily a jacket) and a hobo bag which is carried loosely over the shoulder. 
A selection from our collection ♥
Hobo shoulderbag Sabrina dark blue
Hobo shoulderbag Sky peach colour
Hobo shoulderbag Hope khaki green
Hobo shoulderbag Evelyn white


Hobo shoulderbag Emmely cognac colour


To measure is to know
Hobo bags come in different sizes. Please have a good look at the sizes of your new favourite hobo bag in our webshop. We wouldn't want to dissapoint you in the size of the bag. 

Have fun, finding your new perfect hobo friend!  
 ♥ BULAGGI