Posted on
By Elise Menkveld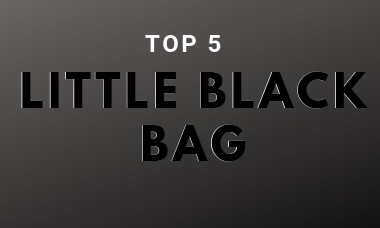 In addition to the phenomenon 'little black dress' we believe that a 'little black bag' is an absolute must-have in each woman's wardrobe.
Little black bag!
A little black bag is a bag that is the fundament of each women's wardrobe. This is one of those must-have items, simply because it matches most outfits. You can take a little black bag on a night out, to a party and can be suitable for each moment of the day. 
We have selected our top 5 favourite Little black Bulaggi bags for you and you can read why! 

1. Handbag Lindy
This handbag Lindy is not only a bag that can be used when going to a party, but this is also a fine bag for during the day. This is why this bag will give you lots of joy and won't sit in your closet doing nothing. The bag can be worn in the hand as a handbag, or over the shoulder because of the additionally supplied shoulder strap. Several outfits matches this bag from a cool jeans & boots with studs to a party dress with stiletto's. This all-round bag is a definite must-have! 
2. Crossbody bag Hope
This cute little black bag is made of a supple PU material and is a lovely bag to take all your essentials with you. The benefit of carrying a small(er) bag is that you don't bring unnecessary clutter with you. This bag is an ideal bag for your (daily) trip to the supermarket. Take your keys, money, phone, lipgloss and you're all set to go! 
This bag can be worn as a crossover bag with the shoulder strap or can be worn as a clutch in the hand when you take the shoulder strap off. This cute multi-purpose bag is another must-have in our opinion. 
3. Clutch Sabella
This timeless clutch bag is one to take with you to each party. This black lacquer (imitation leather) bag is a super stylish bag that can be worn in the hand but can also be worn around the shoulder thanks to the additionally supplied shoulder chain.
4. Crossbody tas Zoe
This one of a kind bag is one to be seen with! This bag closes through a special lipstick closure and would perfectly match a stylish red or black dress or jumpsuit. On the bag you can see a snake pattern which would be so great to see back in shoe details. Don't hesitate anymore, because we now offer this bag with a 50% discount. 
5. Crossbody bag Livy
This sweet bag is totally on -trend because of the cut-and-sew look. Different materials (a fine leather look, snake pattern and a suede look) have been stichted next to each other and gives you lots of options when trying to match your outfit to this bag. This egg shaped bag can be worn both in the hand and as a crossbody bag via the additionally supplied shoulder strap.