Posted on
By Elise Menkveld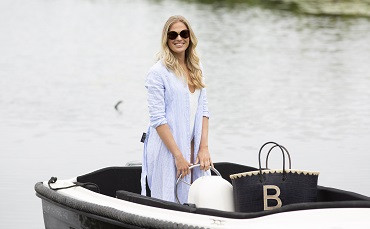 Have you already got a practical bag for thos sunny beach days? No!? With summers like these must one have a good and practical bag to take on to a day at the beach or at the pool.
Rush materials are back! 
Rush baskets are back in fashion. This summer you can see many bags made fo rush material. Oh how we love this trend! a nice dress with a good pair of sunglasses, sandals and a beach basket / shoipper completely make your look super trendy! Place that shopper on your bike and you will be the centrepiece on the streets.

 

 
How to choose a good beach shopper
1. First of all: All of your beach essentials need to fit in the bag. Your towel, sun tan lotion, book, bikini, extra pair of clothes, mobiel phone and all other necessities you would like to bring along to the beach. 
2. Check the bags' robustness, especially when you use the bag for your shopping trips to the supermarket or local market. Bulaggi's bags offer this quailty and are therefore extremely suitable for daily use. 
3. In general, reed baskets are often open, so you do not always feel that your belonings are safely stored in your bag. The majority of BULAGGGI's rush baskets have the advantage that there is a drawstring in the shopper, so that the bag can be closed. This is a huge plus in our opinion, as nothing ruins your day at the beach more than missing belonings at the end of the day. 


4. The rush baskets or beach bags must of course look nice! Choose your favourite colour and / or a colour that suits your summer wardrobe.
5. Is the bag affordable? Ours are! Starting at only € 17.50 you can choose your favourite one! 
Appear fashionably at the beach this ummer with a XL rush basket beach shopper. 
And do you know where you can store this bag in winter time? You can use this awesome bag in your home as a magazine and newspaper basket! How we love bags and interior design. 
CHECK ALL OF OUR BEACH BAGS OUT HERE!
Have a great summer ♥